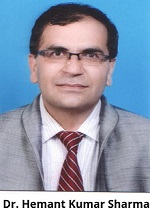 Dr. G.R. Selokar
Dr. G. R. Selokar, an alumni of Visvesvaraya National Institute of Technology ( formerly VRCE) Nagpur hold B.E. (Mech.), M.Tech (Production), Ph.D. (Mech. Engg.), PGDBM and M.A. (Pub. Admin). A meritorious student throughout and with techno-managerial and administrative blending, presently working as Registrar at Sri Satya Sai University of Technology & medical Sciences, Sehore-Bhopal (M.P.).
Dr. G. R. Selokar is an authority in the area of Production Engineering., Quality & Productivity Engineering, Industrial Engg. & Management Science in addition to high level Motivational Guru/Expert.
Dr. Selokar is member of professional bodies like ISTE, IE (India), IIIE, IIPE, and Indian institute of Machines & Mechanisms. To his credit there are 65 & 45 publications in International and National repute Journals respectively in addition to one patent on "Ball Mill Configuration for Energy Optimisation" being Ph.D. thesis work.